Plumbing Service
We provide plumbing, maintenance and repairs for home owners, landlords, commercial properties and businesses. We have been in the plumbing and maintenance industry for 15 years and we have many recommendations from 
our clients. Our excellent local Plumbers Manchester - customer service is second to none, we are there to help when you have an emergency or a bathroom installation, give us a call to arrange a qualified tradesmen to arrive on time or when is suitable for yourself.
About Us
Local Plumbers Manchester are able to provide services for heating, plumbing, bathrooms, electrics and appliance repairs, for all your domestic maintenance requirements. Our transparent charging system is very competitive 
and our work is guaranteed, with our emergency service and 1 hour response time, makes your Local Plumbers Manchester the leading and number 1 independent service company, be it Plumbers Manchester or electrician, we are highly experienced and skilled in our craft, city and guild qualifications give us our long extensive knowledge of maintenance and repairs, they also add to our reputation for customer satisfaction. 
Home Service
We offer all plumbing services such as changing taps inside and outside, fixing leaks, repairing toilet flushes and installing shower pumps to boost water pressure. We can also install electric showers, baths, toilets, sinks, dishwashers and washing machines. Our engineers are experienced, fully qualified and registered with (Chartered Institute of Plumbing and Heating Engineers). 

We will undertake all aspects of bathroom plumbing from repairing leaks to installing showers. We also specialize in bathroom design and installations. We work closely with our customers to design bathrooms to suit their requirements. We can take on all aspects of refurbishment such as design, emergency plumbing, tiling, plastering, electrical and carpentry.
We are a local Manchester based 
company. We pride ourselves on providing efficient and professional plumbing services for residential and commercial clients throughout the Manchester area. Whether you have problem with a burst or leaking pipe, call our Emergency Manchester Plumbers for an instant help! Our name speaks for itself! Our phone-line is active 24-7; our Emergency Plumbing service is available on stand-by. 
We are much more than just Plumbers Manchester, Our firm provides quality boiler services, repairs & installations, landlord certificates in City Centre Manchester, Our North And South Local Plumbers Manchester are also experts in bathroom and wet room installation. We design, supply and install everything you need to create your perfect bathroom.
Customer service is very important to us. We believe that the best marketing for any business is happy customers. If you need a new bathroom we can arrange all aspects of the job from the purchase of materials to the disposal of waste and rubble. When we complete a large plumbing project we ensure that all aspects are dealt with carefully. Professional Plumbers Manchester, complete project management and responsible wast
e management.
Free no obligation plumbing quotes. Perhaps you need a shower fitted because your old shower is not working properly. Perhaps there is a leaking tap that has been bothering you for ages but you haven't got around to fixing it. Maybe the toilet in the bathroom that you keep ignoring despite your best efforts has stopped working. Perhaps you need a new bath because your current bath has too many scrapes now.
When you require professional plumbing services in Manchester who is reliable and prompt, We are the Plumbers In Manchester to call. We strive to maintain a quality level of plumbing and heating services throughout the city. Our
Plumbers Manchester offer a complete service, we give clear and competitive pricing and are fully qualified 
Whatever you need done, we will find the best solution while offering incredible value for money. All our staff are experienced professionals, who are reliable, friendly, customer focused and highly skilled, delivering the best plumbing service possible.
Plumbing Services
We Are a friendly, professional and reliable plumbing company. We offer plumbing, heating repair and installations, bathroom refurbishments, electrical work and general maintenance. Plumbers Manchester guarantee to solve everything from a plumbing emergency, to complete plumbing and heating installations. 
We endeavor to be transparent with regards to providing customers 
with an estimated timescale for each job of work at a reasonable cost. We have 15 years experience in the Plumbing industry, fully qualified and insured tradesman available. We offer an on call fast repair service 7 days a week for emergencies.
Find out where your stop valve is located on the incoming water supply main and label it. Check occasionally that it is working.
Whilst you are looking find where other service valves are located? Label them and check from time to time that they are working correctly.
Find the location of any drain valves on the system too. These can be used in an emergency to empty your water and central heating systems (once the source of heat has been put out).
Ensure that the storage system and exposed pipes are properly insulated, particularly in the roof space or attic.
In very cold weather take special care to prevent water pipes becoming frozen. If you have a storage cistern in the roof space, it's a good idea to leave the hatch open. Heat from the house will help to keep the cistern and pipes from freezing. You can insulate copper pipes with pipe lagging to protect them from freezing over in cold weather.
Inspect your cold water storage cistern (tank) regularly and, if it is metal, make sure it is not corroding. Call in your Registered Plumbers Manchester Professional if there is any sign of a problem.
Check the condition of flexible hose pipes to plumbed - in domestic appliances at regular intervals.
Garden taps should always been insulated in winter because the copper pipe can split, avoid your pipes being frozen use pipe lagging on copper pipes. 

Dripping taps or continuously running overflow pipes are a sure sign that your plumbing system requires maintenance. To avoid them becoming an expensive bill or major problem call in the services of your local Registered Plumbing Professional.

Have central heating boilers and other heating appliances serviced yearly.
Never turn up thermostatic valves to full as your boiler will have to work much harder and your gas bill will rise, keep your valves set low. If you have a condensing boiler, make sure that the condensate pipework is protected against freezing. 
Make a note of your Registered Plumbing or Heating Professional - telephone number for future reference.
Plumbers Manchester Bathroom Design
Start With The Sink
Step One: Remove The Old Sink
Turn off your water supply before you start work (see Tips below) and remove the old sink. If you are re-using old taps, use adjustable wrenches to remove them from the old sink. Never remove the earth wire straps from the pipes under the sink. If you're unsure, always call in a certified electrician to check the bonding.
Step Two: Line Up The Sink To The Wall

Line up the new sink against the wall, using a spirit level to check it is level.
Step Three: Check The Connections
Plumbers Manchester - If you're lucky, you may be able to connect the water supply pipes and waste directly back to the sink trap and the taps. If not, or if you're fitting new taps, fit flexible tap connector pipes and waste pipe parts (from plumbers' merchants) to make the connections. Use the washers and gaskets supplied to give a watertight seal around the new taps. Try to fit as many parts to the new sink as possible before fitting to the worktop or wall, so that you just have to make one connection under the sink when it's in place.
Step Four: Connect The Pipes
Connect the overflow to the waste pipe with the parts supplied. Place the sink into the worktop or screw to the wall and double check all the pipes can be easily connected.
Step Five: Seal The Gaps
Seal around the lip of the unit with a waterproof sealant. Use two adjustable spanners to tighten the joints on the flexible tap connectors. Make sure the flexible tap connector pipes aren't stretched or kinked
Tips:
It's essential that any changes you make to your plumbing system maintain effective earthing of the metal pipework (a dedicated earth wire permanently connects each of these items to a metal earthing block in the consumer unit to prevent electric shocks). Adding new sections of plastic pipe may break this bonding.
To turn off the cold water: you may have isolator valves fitted to the hot and cold supply pipes underneath the sink. 
Plumbers Manchester - These mean that you can turn off the water to just the sink and not the entire system. If not, you will have to turn off the cold water at the main stopcock. 
To stop the flow of cold water turn on the cold taps until the water stops running. If you can't find the stopcock, turn off the water authority's valve under the cover in the street or front garden. You'll need a special long-handled spanner, available from plumbers' merchants.
To turn off the hot water: always turn off the boiler and immersion heater before draining the hot water. Turn off the valve on the cold feed pipe to your cylinder and run the hot taps to get rid of water in the pipes.
If you can't find this valve, tie up the ball valve in the loft storage tank to a piece of wood laid across the tank top. Turn on all the cold water taps in the bathroom to empty the tank. When no more water comes out, run the hot taps until these run dry as well.
Wrap a piece of masking tape around copper pipe to guide your hacksaw for a neat cut.
If your new worktop sink isn't exactly the same size as the old one, you'll need to use a jigsaw to enlarge the cut-out on the worktop. Use the template provided to mark the area to be cut. Remember not to cut around the edge of the sink – check the instructions so that the rim sits on the worktop.
You may be lucky enough to be designing a new home, an extension to include a bathroom or (yes, even in this day and age) upgrading a property which has never had the proper facilities. Plumbers Manchester - Any of these allow you to greatly influence the size and layout of the bathroom in your home.
Even if you are remodelling an existing bathroom and are restricted to the physical size of the room, you may be able to work wonders. If you are replacing the bathroom suite, you do not need to install the new suite in the same position as the original. You do not even need to use the same room and you can always add or remove walls, doors and windows. You can design the grand bathroom you dream about - but its actual installation will depend upon how much money and inconvenience you are willing to tolerate.
There are four steps to planning a bathroom:
Measuring up and noting the position of the existing services, windows and doors.

Working out the plan to get the bathroom fixtures where you want them.

Deciding upon any structural work which needs to be carried out - new or moving walls, doors or windows.

Deciding on any changes to the services (electricity, water, drains) you need.


Plumbers Manchester - Kitchen Design 


Get The Layout Right

Start by assessing your own space, measuring up and making an accurate floor plan. The type of kitchen layout you choose will depend on the amount of space you have, but consider the following before you visit a kitchen planner.
Could You Change The Current Layout?
If you're ripping out existing units, you don't have to stick to the previous layout, although if it's a small space you may be stuck with making the most of what you've got.
Where Should You Start?
Plumbers Manchester - Note the position of existing power points, pipes in and out, windows and doors. 

Using the same measurements, make a rough sketch of how you would like the appliances, worktops and doors to be, noting any changes in services that may be necessary. 

Bear in mind that changing the location of services or structural features will add to the overall cost. 

Play around with different combinations, until you have a design you're happy with that you can present to a kitchen planner.
What Practicalities Do You Need To Consider?
As you go, think of a kitchen's functions and work these into zones in your plan. Food preparation, cooking, serving and washing-up afterwards are the four main jobs all kitchens need to fulfil. Make sure each zone has sufficient worktop space, storage for its associated stuff and all the necessary appliances to hand.
Designers also put great stock in the 'work triangle', which dictates the sink, cooker and fridge should form the corners of a triangle in relation to each other. Sinks traditionally live under the window because access to the plumbing 
is easier and having a wall cupboard above the sink results in banged heads - although it is possible to incorporate draining racks above it.


Remove your kitchen
Preparation should take place a few days prior to fitting your new kitchen and provision will no doubt have to be made to visit the local take-away for the duration. Once the sink has been removed, it's a good idea to fit an angled washing machine valve to the cold supply for filling the kettle while you're without a sink. Fit blanks to all other exposed pipe work.


Check your plumbing and electricity
The ideal time to carry out plumbing and electrical alterations is prior to any re-plastering. As the kitchen is the place where most electrical appliances are concentrated, it is important to check that your existing wiring is capable of coping with the load placed on it at busy periods.If you possess a plan for your new kitchen, obtaining a first fix preparation layout will help you to determine the position of all electrical and plumbing services to the nearest millimetre. As well as reducing installation time, arranging your own first fix should also reduce installation costs. Wall socket boxes and tails of cable for sockets below worktop height can now be positioned where required. Provision should also be made for ceiling and under-cupboard lighting at this stage.Gas and water services can also be positioned in preparation for cabinet installation, as can any waste pipes or extraction holes. At this point it is important to refer to the laws relating to work on gas appliances or fittings. Plumbers Manchester - Once the pipe-work is in position behind the relevant cabinet/s, fitting isolating valves will eliminate the need to shut off the house water supply whilst the installation is being carried out. Provision to access these valves can be made later when fitting the cabinets. A good point to remember at this stage is to ensure any pipe-work passing behind integrated appliances is installed tight to the wall and at a low level depending on the appliance depth and configuration. Overlooking this point will mean your integrated appliance doors will protrude from adjacent cabinet doors. This is to be avoided unless you wish to set a new trend!


Check your walls
After removing your old kitchen it's worth checking the condition of the plaster.
The finish and strength of the walls ultimately determine how your kitchen will look and to ignore it at this stage may spoil the final appearance. 
Fitting units or tiles to perished plastering is like placing your best china in a fruit-box and I strongly 
advise any rectification to be made during preparation, 
(a sight you won't relish after your kitchen has been fitted is the plasterer standing on your new worktops trying to reach the bare wall above your new cupboards). You may find that although your walls can be re-plastered after fitting, your worktops and sink have more scratches than an ice rink. 
If major plastering is required once you have removed your old kitchen, be sure to give it sufficient time to dry before fitting any units otherwise the cabinets will swell due to moisture content, 
Although time taken on completing the above will of course prolong the installation, it will ultimately bring you peace of mind and you'll be safe in the knowledge that all your surfaces are sound.


Plumbers Manchester - One final step before installing your kitchen
Once you have completed the above steps and your plastering is dry you're ready to mark levels on the wall.
Firstly, determine the depth of the floor covering and add this measurement to the height of the units (without worktops). For example: Depth of tiles = 12mm. Height of units = 870mm. A line will be made at a height of 882mm. This will allow easy fitting of the kickboard on completion. Having completed the preparation it's now time to begin fitting the units and providing services have been positioned correctly this will be a much easier task than you thought. In the next article of this series I'll be showing you how to install your cabinets and reduce the profits of your local take-away sooner than you thought.
Plumbers Manchester - How To Fix A Running Toilet
If your toilet is running and you have to jiggle the handle to get it to stop, Allan will show you how to fix this quickly and easily. In many cases this requires no parts and no tools!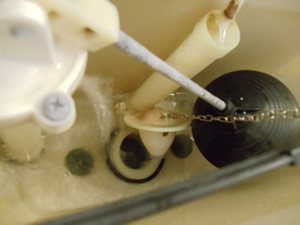 The most common problem is that the chain connecting the flush handle and the flapper valve is not adjusted properly and gets caught under the flapper valve, preventing a good seal. The water continually leaks out of the tank, and therefore the tank continually attempts to fill. Watch the video to see the proper amount of slack chain (about 2 links).
Another issue is a some part of the flush mechanism catching on another part. This is not uncommon, especially when a ball float is used. The ball float may catch on the flush handle arm, or even the flapper itself. In the photo to the right, the flapper valve is being held open by the float ball. A slight bend in the ball arm, or turn of the adjustment screw is all it takes to make it operate smoothly again.
If neither issue is the case, the flapper valve itself may be worn out. This is also an easy repair, but you must be sure to purchase the correct replacement part. See How to replace and buy a toilet flapper for detailed instructions on how purchase and install a new flapper valve.
Plumbers Manchester - Clearing a Clogged Sink Drain
Allan shows how to remove a sink stopper and then clear a bathroom sink drain without any chemicals, using a shop vac technique. This also addresses any smelly drain conditions.
The video demonstrates how to prepare the sink stopper so that the clog can be removed, without filling your under-sink cabinet with water. Also, techniques for effectively clearing all the channels in the sink.
In this video I explain how to deal with the most common type of pop-up stopper mechanism (shown here).
But there are so many other styles out there, such as this one, that I could not cover them all.
Plumbers Manchester - Water Pressure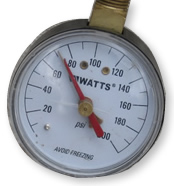 High water pressure is major cause of leaks, pipe damage, and wasted water. Learn how to detect it, prevent it, and fix it.
While some might consider high water pressure a good thing, water pressure that is too high can cause annoying and expensive damage.
Symptoms of water pressure induced problems include leaks in multiple fixtures in the home, leaks that only appear intermittently - like at night, and toilets running occasionally without being used.

The most common source of excessive water pressure is the municipal water supplier. The water company sets the pressure to meet their own needs, such as delivering water to fire hydrants, high elevation buildings (or tall ones), and other reasons. This water pressure is often well over 100 psi, and too often over 150 psi. However, the maximum recommended pressure for a residence is 80 psi.
You can easily test your water pressure with a gauge, such as the one pictured here, that screws on to a hose bib. These are usually inexpensive  at the home centre. A fancier one will have reseatable needles that will record the pressure range allowing you to see what happens to the pressure when you aren't watching (such as overnight).
A pressure regulator for each property ensures that the pressure coming from the municipal supply is reduced to a safe pressure. If the regulator is placed at the meter, instead of just at the entrance to the building, then the regulator will also act to protect the supply line to the house and the many parts of the properties irrigation system. An added benefit of regulating the pressure to the irrigation system is that it will help to reduce misting, thereby increasing the efficiency of the irrigation system - saving water and money. See my video below on how to install one.
Plumbers Manchester - Unfortunately, water pressure regulators - like any mechanical device - don't last forever. If you are experiencing the symptoms above and you already have a pressure regulator, it's worth testing your water pressure again, to see if the regulator is operating properly. The video below shows how to do this.

Excessive water pressure can also be a result of thermal expansion of the water within the home, even when the pressure entering the water supply is within the desired range. You home's plumbing spends most of its time as a closed container. Then, as the water heater heats the water, it expands slightly causing an increase in pressure. A thermal expansion tank within the home's water system absorbs these slight volume changes and prevents pressure fluctuations that can cause system damage.